Ron English, the sub-culture, pop-art activist and all round legend has just teamed up with online clothing company Threadless, to launch a range of iconic Ron English face masks.
According to an article on his website popaganda.com, English's wife had begun making face masks at the start of the covid pandemic but when she ran out of scrap material, began using his shirts.
Eventually the shirts ran out too and that's when English figured let's do this properly and teamed up with Threadless to launch an official range… and we are excited.
A founder of the street art movement
We simply love Ron English's art. He has never shied away from airing his opinions. His work is powerful and thought provoking, striking at the heart of capitalism, consumerism and the constant bombardment of advertising. We've spoken about him before in this article – https://creativefolk.co.uk/social-commentary-art-commenting-on-the-world-we-live-in/
He was one of the founders of street art, using advertising billboards as his canvas, cleverly manipulating them to express his own views rather than that of the advertisers. This led to coining his style as 'Popaganda' a mixture of pop art and propaganda.
He was also one of the first artists to use pop culture figures in his work to express his views. Figures such as Mickey Mouse, Elvis, Marilyn Monroe etc have all made an appearance.
One his classic designs utilises the iconic smiley face, twisting it into a more sinister, gruesome version and this design is one featured on the new Ron English face masks.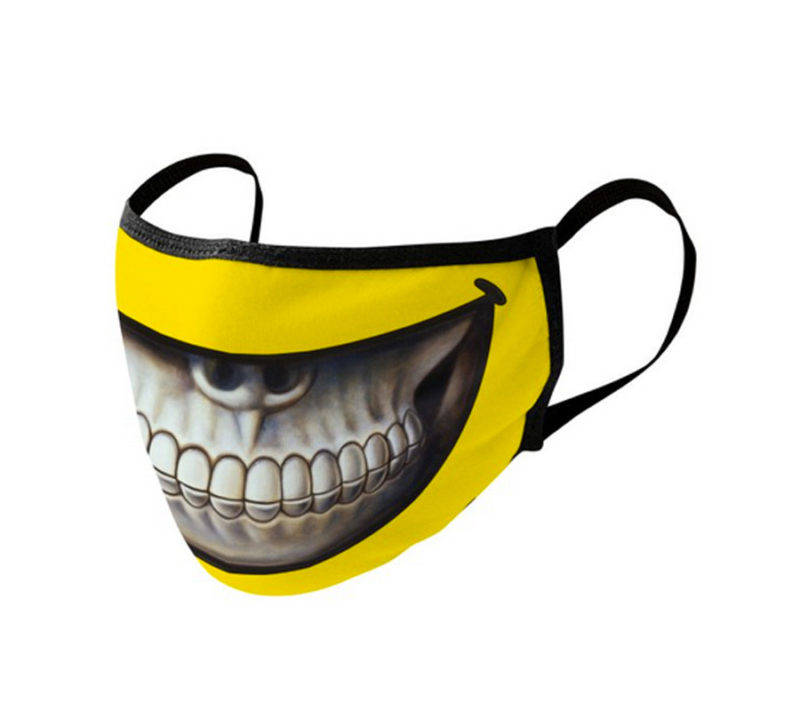 All proceeds from the face masks go to charity
From what we could see there are about 40 Ron English face mask designs on the Threadless website and, unlike a Ron English original painting, you can get your hands on one for just $15.
The other great thing about all the Threadless face masks on offer is that they are donating 100% of the proceeds to Medcare to help with the viral pandemic.
English himself, according to his website, was affected by the virus back in March, so much so that he has stated that he may never be able to use spray paint again, which is a very sad announcement for lovers of his work.
The face mask could be here for a very long time
Whether you've contracted the virus or not, there is no denying that Covid-19 has had a huge impact on us all. We still find it incredibly surreal to see hoards of mask covered faces in town centres, having to queue outside shops due to limits and restrictions… and there is no end in sight.
The face mask could be with us for a very long time so maybe we need to start thinking of it like we do the rest of our clothes. Rather than a mundane, bland disposable one maybe it's time to use it to express ourselves and we think a Ron English face mask is the perfect choice.