If you're looking for something to help unwind after a busy day, and you've never watched an episode of 'The Joy of Painting' with Bob Ross, you need to… now.
The Joy of Painting
The pace of life for most of us has never been faster. Distractions are everywhere, and sometimes a little time out is required.
Whilst browsing Netflix recently we came across the incredibly delightful, and almost hypnotising show 'The Joy of Painting'.
The set up couldn't be simpler… one man, one easel, one canvas, but what occurs over each episode is quite magical.
Over the course of 30 mins, Bob Ross takes a blank canvas, and using his wet on wet technique (essentially the technique of keeping the oil paint wet to assist with blending colours, rather than having to wait weeks before a layer is dry) produces a magnificent landscape.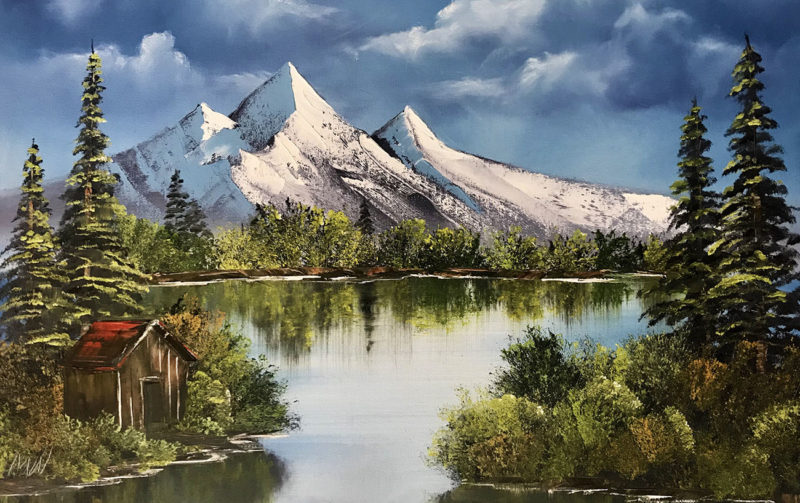 His skill with a brush is awe inspiring, with each step in the painting calmly explained. According to Wikipedia, Ross was heavily influenced during his time in the US Air Force based in Alaska, and you can clearly see this, with many of his works featuring snow topped mountains, glacier lakes and log cabins.
The wiki page also explains how he vowed never to raise his voice again after leaving the Air Force. When watching the 'Joy of Painting' it's impossible to imagine this kind and gentle man angry or even loud.
There are no mistakes, only happy little accidents
He has such a gentle, laid-back manner and this is only reinforced with his accompanying stories of animal rehabilitation, something else he was passionate about, with cute animals often making an appearance on his show.
'The Joy of Painting' is always a delight to watch, filled with catchphrases such as 'happy little trees' and our favourite, 'there are no mistakes, only happy accidents'.
Each painting is a door into his 'happy world', a place where he escapes from everyday life, and the wonderful thing is, he takes you there too.
The legend lives on
Sadly, Bob Ross passed in July 1995 aged just 52, but his legend lives on achieving a cult like status and following.
He's been featured in iconic shows like Family Guy and The Boondocks.
YouTube is full of Bob Ross dedicated videos. One even has a flash mob (aka a flash Bob) full of school kids dressed as Bob, watching Bob, whilst painting like Bob, and with Netflix streaming his show, he is more popular than ever with eager artists continually learning his techniques.
But this isn't just a show for budding artists. This is a show everyone needs to watch. Until you watch an episode, it's hard to appreciate just how relaxing it is.
Imagine sipping a glass of wine whilst unwinding in a hot bath next to a log fire and you might be somewhere close.
We promise, you just can't help but be captivated.
Have you ever watched 'The Joy of Painting'? Do you agree with our opinion? Let us know what you think of it in the comments section below…