The brutal and very public murder of George Floyd by US Police has, yet again, brought the necessary discussion of racism back into the limelight. As the protests around the world continue, we hope that maybe this time something changes, something positive.
For most of us, it's impossible to imagine what it must be like to endure racism in all its sinister forms. Sadly, it takes a horrific event for the majority to sit up and pay attention.
Over the last week we have seen artists use their talents to express their views and capture the events that unfolded as a result of George Floyd's death.
Simply powerful…
One such powerful piece came in the simple act of adding red paint to a large bronze sculpture in Utah. The two open hands were created by sculptor Gregory Ragland in 2013 and sit outside the Public Safety Building in Salt Lake City.
We don't know who added the red paint but this new addition to the piece adds a whole new dimension and, in our opinion, takes it to another level. The image soon went viral, sparking furious debates of whether this is vandalism or art.
It's time to reflect
Since the tragedy, there have been many tributes painted of George Floyd by artists worldwide. L.A artist, Nikkolas Smith is one of those but he also produced a stunning work aptly named 'Reflect'.
In an article on Time.com, Smith explains how the single protester holding up a mirror to the line of riot police simply asks the question "Can we just hold up a mirror to what this looks like right now?" and rightly states that contemporary art should raise questions of what we are willing to except.
We are in complete agreement with this comment. Art can be a very powerful tool to start important conversations.
Some works are very clear in their narrative and others leave it to the viewer to decide.
You decide the narrative
One such artist, who we have admired for a long time, is New York based stencil master, Logan Hicks. Famed for his incredible stencil work, he is also an incredible photographer and has recently been documenting the protests through powerful photographic imagery.
What we love about the images is that there is no explanation attached to them. He has simply left it up to you to decide what's happening, how they make you feel and question your views and opinions.
A more direct approach
On the other side of the coin (and the pond) is UK based artist Nathan Murdoch's more direct mural. Originally created back in November 2019 in Peterborough, this beautiful mural depicts a black and white hand coming together to create a heart. In light of recent events the image has gone viral.
In an interview with the Peterborough Telegraph, Nathan explains how a woman from Minneapolis got in contact to ask if she could use the image, as it summed up perfectly how she felt.
Since then the likes of rap mogul ICE-T and Public Enemy Star Chuck D have shared the image on their social media platforms.
The importance of 'having a voice' is paramount in situations like these, in order to make yourself heard to the masses.
Banksy voices his opinion
Yesterday, street art pioneer Banksy revealed his work in support of 'black lives matter' to his millions of Instagram followers (and therefore to the rest of the world).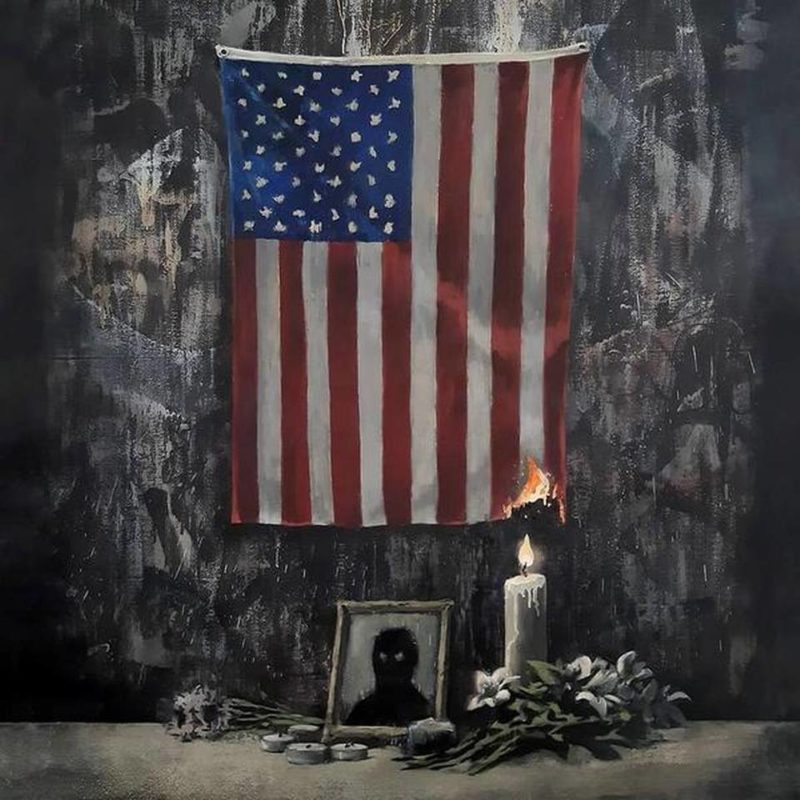 The painting, showing a candlelit vigil whilst the draped American flag burns slowly, posted on his social media page, was accompanied with the following message:
'At first I thought I should just shut up and listen to black people about this issue,'
But why would I do that?
it's not their problem. it's mine.'
'People of colour are being failed by the system. the white system. like a broken pipe flooding the apartment of the people living downstairs. this fault system is making their life a misery, but it's not their job to fix it. they can't – no-one will let them in the apartment upstairs.
This is a white problem. and if white people don't fix it, someone will have to come upstairs and kick the door in.'
Racism has to stop
We believe art can play an integral part in changing views and opinions. It can make people question their beliefs and start important conversations.
In this technological world the phrase 'an image can say a thousand words' has never been truer.
In the same way the horrific video of George Floyd's death was seen by millions, so can images that contain powerful statements regarding racism. Statements that question how did we get here? Why haven't things improved and what does this mean for the future.
The problem is, racism is deeply embedded in our history. For some it's where they think it stayed but for many, history is being repeated and played out every day.
It's taken another unnecessary death and the resulting protests for the topic of racism to be raised again and until the problem is dealt with properly, rather than being swept under the carpet, this tragic cycle will continue.