Sometimes the simplest ideas are the ones that become something special. This is one of those ideas and it all began on April 28th 2020, with a dad trying to entertain his son during lockdown.
During these strange and bizarre times, parents across the country have all been in a similar position… what do we do with the kids to keep them occupied and out of mischief?
On the request of his wife Laura, Nathan Jones, dad of two, decided to take his one son, Noah, into the garden for a spot of painting. Using bits of cardboard and some paint, Noah began creating wonderfully expressive and abstract paintings… and this is the moment the idea began to emerge.
You see Noah has Hydrocephalus, Epilepsy and Cerebral Palsy which involved a lot of time in hospital during his younger years. Looking at Noah's creations, Nathan, an avid art lover, wondered if any of his artist friends would be interested in collaborating with Noah by adding their touch to his paintings.
As a way of saying thank you, these would then be exhibited at the children's ward at Colchester Hospital, where Noah had most of his treatment, and then auctioned off to help raise money for the Hospital.
So, on the afternoon of 28th April, Nathan posted his request on social media using Noah's art name 'Background Bob' with an image of the work they had done… and let's just say the response was a little more than they expected.
Talking to CreativeFolk, Nathan explained, "We knew there would be maybe 8 or 10 artists who'd be up for it, but we never expected the response we got".
We never expected this level of response
That one post on social media, in just one month, has ended up with almost 200 artists getting involved from all over the world, plus coverage on the BBC and ITV.
As Nathan explained to us,
"Originally the plan was to get a few street artists I knew involved but all kinds of artists have come forward, even a chef! We never anticipated this level of response and are completely overwhelmed and humbled by what's happened.
When certain artists such as My Dog Sighs promoted the idea on their social media pages and then the BBC ran an article, the whole thing began to gain momentum.
It's basically taken on a life of its own, almost becoming a full-time job. The whole family has got involved in helping to post out the artwork plus all the social media side of showing the final creations and thanking everyone who so kindly participated".
Nathan mentioned to us during our chat how excited Noah is creating his backgrounds, but Noah, like any true artist, is still prone to artistic tantrums when his painting doesn't go the way he wants it. What makes it all worthwhile though, is when the postman visits.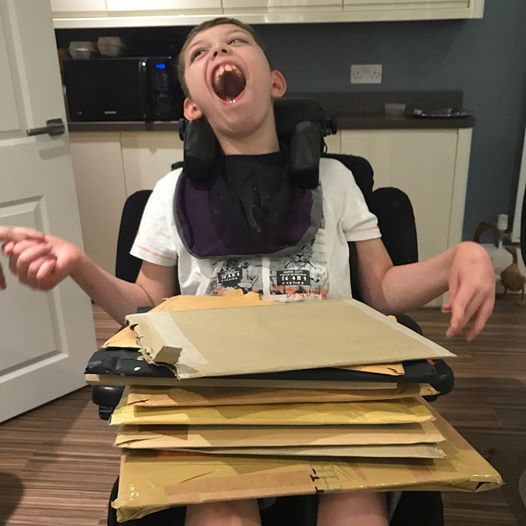 "He gets very excited when more packages arrive, we all can't wait to see what new works of art people have added to his backgrounds".
So many artists rise to the occasion
Recent CreativeFolk 'In the spotlight' artist Raffaella Bertolini was one of the artists involved with this great project, she explained, "I saw Nathan's posts about the project a few days before and I was just going to volunteer when he approached me on Instagram and I immediately said yes.
I am not surprised so many artists took part in this amazing project as I am part of a big community of artists who don't miss a chance to use their art for good causes.
This was particularly special, as it's a collaboration with an amazing kid and family, and to see that big smile and excitement about the project makes it even more worthwhile".  
The Background Bob art project has begun helping others
What we love about this art project is not just that artists have embraced this wonderful idea but how we feel this has kind of gone full circle. Let us explain…
This all started with a dad wanting to help his son, and artists joining in, but during this creative project it also began helping some of the artists with their own issues.
During our conversation with Nathan, he explained how he'd receive messages thanking him for the opportunity and how it had helped them mentally during this anxious time to start painting again. The cancellation of many shows and exhibitions has left many in the creative industry worried about their future.
The simple idea of involving others with Noah's Background Bob art project, has evolved into something very special. Something that hasn't just helped Noah, but has now begun to help others and Nathan, Laura, Noah and Reuben hope it's something that will continue to grow, but maybe just at a slightly more manageable rate ?.
Who knows where this will take them, but surely that's the exciting part?
If you'd like to follow Noah aka Background Bob or get involved check out @background_bob on social media.