On the 5th October 2018 Banksy's Balloon Girl captured the world's attention. As the hammer went down at auction house Sotheby's on the £860,000 piece, we watched in astonishment as the Balloon Girl began to shred. Many called it a 'stunt'; a wonderful piece of marketing. Others questioned how this could have happened and cried 'fake'.
One person who felt this was all a little dubious is street artist JPS who is adamant that something very fishy went on that day and has been continuing ever since. Claims of back dated artworks and false certificates of authenticity (COAs) by Pest Control are at the centre of this ongoing controversy.
We spoke directly to JPS to find out more about what is going on with Banksy and Sotheby's…
"The starting point for me was the infamous shredder stunt. Although both Banksy and Sotheby's strenuously deny being in cahoots (because that would be illegal), I firmly believe both parties were in on the stunt. But, putting the whole 'how did the shredder frame make it past security' type questions to one side, the bigger issue for me is that I believe the piece was falsely dated by 12 years", explains JPS.
According to JPS, the alleged record breaking piece was not a 2006 Balloon Girl at all but a falsely dated newer version of the famous artwork. The timeline below, given to us by JPS, shows why he believes this is the case:
As you can see from the timeline, the 2006 version marked with a red dot is clearly a lot crisper than its 2005 and 2007 counterparts. In fact it would be fair to say that it is more alike to the later 2017 and 2020 versions.
If JPS is in fact correct, the infamous work. now residing in a German museum on permanent loan, was therefore purchased with a false back dated history.
Sotheby's Alex Branczik made a statement attempting to quash any claims of wrong doing by stating that the piece wasn't a 2006 work at all but a brand new 2018 version and yet at the time the hammer went down it had been sold as a 2006 work.
And it didn't stop there…
JPS also claims that the next part of the Balloon Girl puzzle was brought to his attention when Banksy bought a rescue boat and the Balloon Girl appeared on the side of it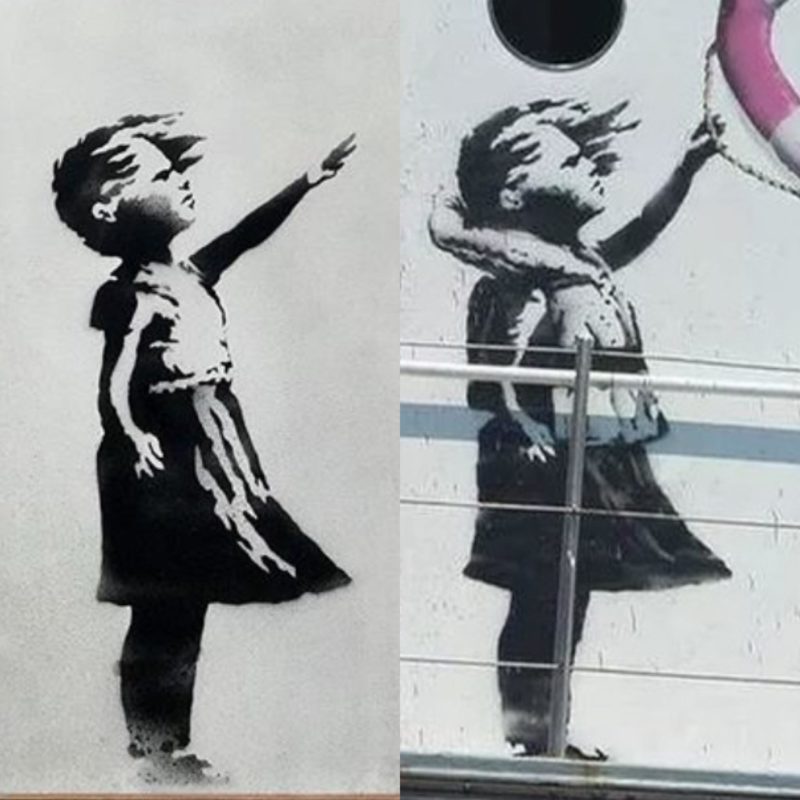 "After seeing the version on the side of the boat and comparing it to the alleged 2006 one I am positive it was back dated, also in the 3 days after this, Banksy's Instagram account grew from 1.8m to over 6m and once again his prices began breaking records. In 2017 Balloon Girl was voted the most popular piece of UK art and I firmly believe this is why this fresh faced version appeared at Sotheby's ", said JPS.
In 2020, to make a point of his frustration, JPS created a piece of art titled 'Outta Time' which featured his own version of Banksy's Balloon Girl holding a COA and stood next to a Back to the Future DeLorean
At this point, it would be very easy to simply accuse JPS of just being bitter and a little jealous of Banksy's fame but, as JPS put it, "I feel people are being ripped off and lied to. If Banksy and Sotheby's are fabricating histories for these pieces then buyers are investing huge sums of money into false works. If Pest Control are issuing certificates of authenticity falsely dating pieces by 12 years then how can they have any credibility?"
JPS believes that the Balloon Girl stunt in 2018 was just the beginning of a sophisticated operation between Banksy and Sotheby's where new works are given a back dated history and COA and urges potential buyers to look closely, ask questions and think twice before investing.
When JPS first approached us with his findings we found it all a little overwhelming to be honest, but, when you look at the timeline you can understand why questions are being asked, and if this does have a false history, questions about other works start to be raised.
As we've said in previous articles, when huge sums of money are at stake who knows what people are capable of.
Before writing this article JPS stated that he contacted Banksy, Sotheby's and Banksy's PR agent Jo Brooks regarding the accusation… he heard nothing.
UPDATE 05/09/2021
On October 14th 2021, the now infamous shredded 'Girl with Balloon' will go up for auction at Sotherby's with an estimate of £4m – £6m. As a result of the 'shredding stunt' the title of the piece has now been changed to 'Love is in the bin' and is registered as being created in 2018. No history prior to 2018 is stated.
JPS brought this new information to our attention when he posted the following images on his social media account: