The UK is full of talented artists. Many are already acclaimed artists with huge followings, others are busy creating in their spare time. What connects them both is their passion and determination to increase their skills and become better artists.
Here at CreativeFolk, we want to showcase their talents to the world, to work with artists that have the same drive and love for art that we do.
So, today we're showcasing 5 talented artists that we believe are incredibly talented…
Raffaella Bertolini
Italian born Raffaella has been a full time artist for many years. Her work has gained critical acclaim and quite rightly so.
Her skill is in merging styles seamlessly; taking fine art and combining it with the punchy colours and attitude of street art.
Working mainly with portraiture, the detail and dynamism produced in her work, we think, is beautiful.
We've been a fan of her work for a long time, having interviewed her as part of our 'In the spotlight' series. We were also thrilled when she agreed to have some of her work showcased on CreativeFolk.
Indie Matharu
Working predominantly in black and white, Indie demonstrates just what can be achieved with a pencil and charcoal. Her work has gained a deserved reputation as a master of her craft.
Focusing on the human figure, she has produced a prolific body of work encompassing everything from human emotions to iconic pop and cultural figures.
The detail in her work is simply incredible, achieving photorealism within her artwork. You can read more about Indie Matharu's art in our in the Spotlight interview with her.
We're also very excited that some of her work will be available very soon on CreativeFolk.
Virus
Virus is an artist we have been following for a while. Their vibrant portraits are full of movement and excitement. There is a very contemporary freshness about them and we knew we just had to get in touch and get them on CreativeFolk.
As for the artist themselves? Well there's not much we know as they have opted to keep their identity hidden. All we know is they appeared on the art scene in 2018 and have been causing a stir ever since!
Still, we have great pleasure in being able to showcase some of their work here.
Sarah Perkins
Sarah is one of those hidden treasures. An artist who simply paints for the pleasure and strives to improve her skills with every new piece of art she produces.
It's instantly apparent on viewing her work that nature is her muse. The great outdoors, and the experiences and emotions it produces, plays an important part in her work.
What we love about Sarah's work is her use of spray paint. More associated with gritty urban street art, Sarah has utilised it in a more delicate and natural way, allowing the paint to fall organically resulting in stunning abstract landscapes.
You can check out Sarah's wonderful abstract landscapes here.
Fiona McLauchlan-Hyde
In a similar way to Sarah, Fiona has a love of nature, but particularly Greece. In Fiona's abstract paintings, she builds up beautiful layers, and tones. You can see within her work the brush marks and where she's scraped paint back to reveal colours from previous layers.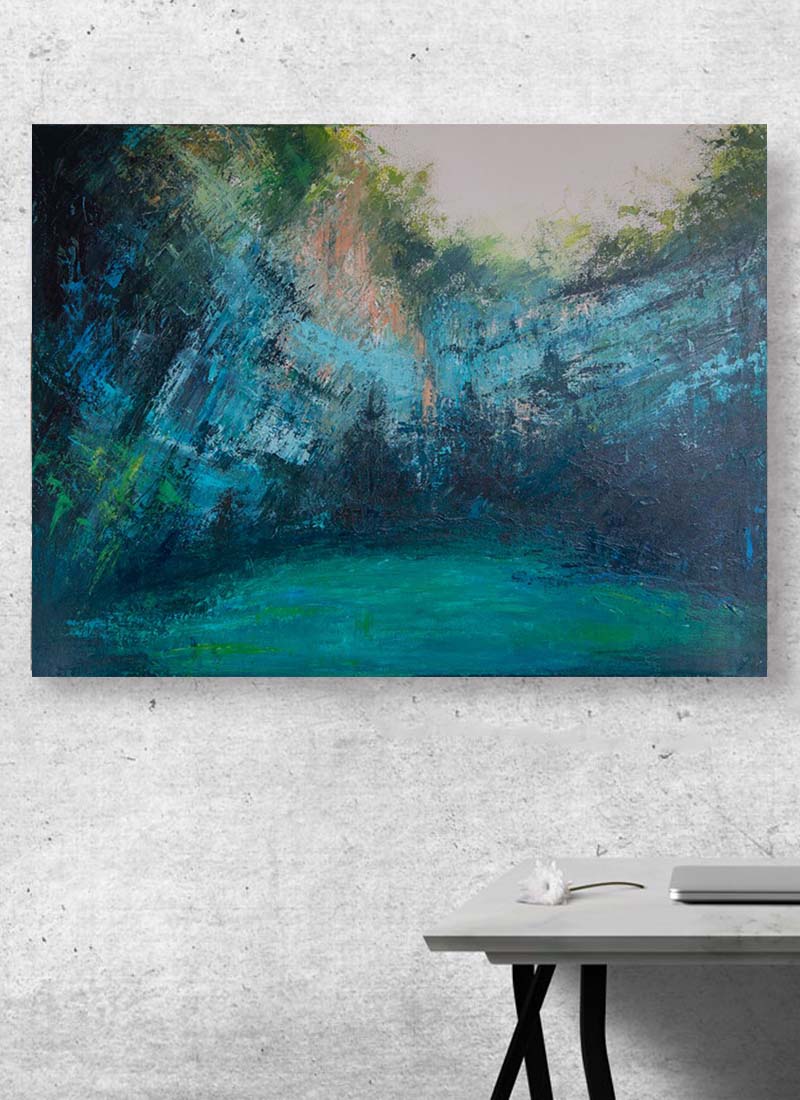 Her use of light and shadow cleverly encapsulates how light cuts through the darkness making the stunning blues of the ocean sparkle against the cliffs.
Fortunately for us, and you, she has some of her stunning artwork available here.
We are very proud to work with these talented artists
What we love about these artists is they prove how broad art is. Each one approaching it in a very different way and yet the outcome is a beautiful piece of art.
The works they produce are the result of years of practice and experimentation and we are very, very proud to be able to showcase these incredibly talented artists.